It's Christmas everywhere isn't it? I can't go three steps without bumping into tinsel or an image of Santa smiling away! So in the spirit of Christmas (and following the crowd!), I'll be posting a series of Christmas blogs over the coming weeks. Think gift ideas, recipes and decoration tips. This week I'm going to teach you how to make a homemade liqueur. For the cocktail lovers out there, you're going to love this!
Making your own liqueur and giving them away as Christmas presents means you get double points – a handmade gift that is sure to make the recipient a bit tipsy as well!

My Dad's a big fan of delicious syrupy liqueur. His favourite being the Elderflower liqueur in that gorgeous glass bottle. Unfortunately for me, my elderflowers haven't yet bloomed, nor would I have enough to make a good liqueur. However, berry liqueurs are a close second in his list of favourites. Lucky for me, frozen boysenberries are fairly inexpensive per kilo from the guys over at Frozberries. This year I'm going to make him something similar to the style of liqueur as Chambord. Chambord is made using black raspberries, however I'm using just boysenberries with a vanilla twist. To make the liqueur it's incredibly simple.
Ingredients:
400g of Boysenberries
750 ml Vodka
2 Vanilla beans
Zest of a tangerine or lemon
1 cup of Sugar
1 cup of water
Makes about 1 litre
Equipment
2 large jars, able to hold at least 1 litre
Strainer
Instructions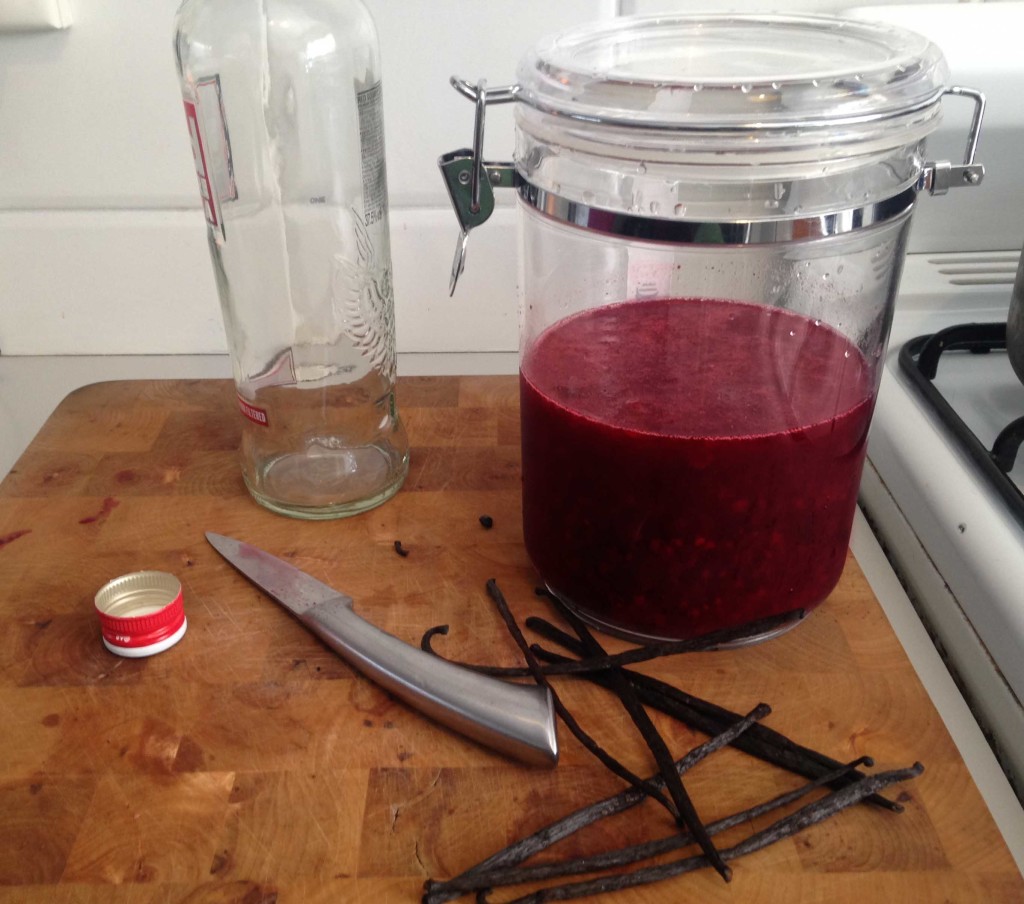 Sterilize your jar by running it through the dishwasher on hot. Or hand wash thoroughly. Make sure you rinse really well if handwashing, nothing worse than a detergent taste in your liqueur!
Split vanilla bean in half and scrap out seeds into the jar. Add a bit of vodka in and swirl around to break up the seeds. Split the second one and place in the jar. Throw in the boysenberries and remaining vodka. Seal and give it a good swirl.
Leave in a cool dark place for 3 – five days
Strain the mixture with a mesh strainer into a clean jar – do not push or squeeze the solids, it will only make your liquid cloudy.
Make a simple sugar syrup. Simply mix 1 cup of water with 1 cup of white sugar in a small saucepan over medium – high heat. Stir to make sure the sugar is completely dissolved, then remove from heat and allow to cool. When cool, stir it into your vodka/boysenberry liquid.
And hey presto! You've got yourself a liqueur! Have a taste, enjoy the fruits of your labour! For those who are particular about presentation, you can let this mixture stand for a few days so that it becomes clear. Simply siphon it off into a pretty glass bottle and it becomes a fantastic, thoughtful handmade gift. Just remember, drink responsibly and don't drink and drive!